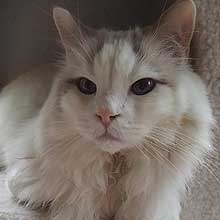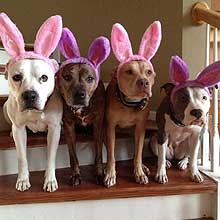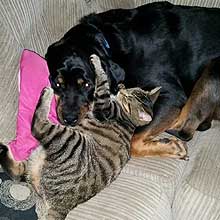 Choosing the Right Pet Sitting Service
Once you've decided to use a pet sitting service to care for your pets, the next step is choosing the right company. You should expect and accept nothing but the best for your pet's care. Choosing the right company will enable you to travel or work long hours without worry, knowing that your pet is in good hands.
A Professional Pet Sitting Service Company is...
Insured & Bonded. With insurance and bonding, you are entrusting both your pets and your home to a professional company carrying appropriate coverage for any unexpected, accidental, or negligent issues that may arise.
Experienced. It takes more than a love for animals to operate a pet sitting company. Make sure your choice has experience. Your pet sitter needs to be able to recognize, evaluate, and resolve any situation that may arise with both your pets and your home.
Has excellent references. A professional pet sitting company is more than happy to provide references from current customers.
Has an emergency back-up plan. A professional pet sitting company has a staff available for back-up in case of personal emergency such as illness, injury, or even death. A back-up plan is absolutely neccesary to ensure the safety and well-being of your pets.
Knowledgeable. Pursues ongoing education through professional memberships and Red Cross Pet First-Aid & CPR courses.
Reliable and Detail-Oriented. Your pet sitter should always confirm your bookings, make sure care instructions are up to date, and perform all visits as scheduled and in accordance with your pet and home care instructions.
Utilizes a service contract and vet release form. A service contract outlines exactly what you are hiring the pet sitting company to do as well as agreement on payment, liability, and policies. A vet release form gives the pet sitter permission to obtain treatment for your pet in an emergency situation, with or without limitations which are dictated by you.
Obtains emergency contact information. Whether your pet is getting a belly ache, or water is leaking into your basement, with appropriate emergency contact information, a professional pet sitter will handle the situation for you.
Keeps regular office hours. You'll want to know when you can call to book service, as well as when you can expect to have your call returned.
Maintains an after-hours emergencies number. If you have an emergency or if your flight is delayed, you need to be able to reach your pet sitter, even if it is after hours.
Sends notes after each visit. We send detailed notes, a checklist and pictures of your pet to you thru our online pet sitting portal. The notes give you the chance to see how your pet interacted with the pet sitter, information about eating and exercising habits while you were gone, as well as reading stories about each cute little thing your pet did.
"We feel so lucky to have found Cuddles & Care! The fees are so reasonable, and the care provided is unparalleled! We feel at ease going out of town." ~ Jon & Tonya