Welcome to Cuddles & Care Pet Sitting!
Our goal is to provide loving, personal care to your pets when you can't be there. Whether you have a new puppy, are working long hours, traveling for business, are going on vacation, or are taking a weekend getaway, Cuddles & Care provides services designed to make life easier for both you and your pets.
With tailored visits designed especially to meet the individual needs of both you and your pets; you can rest assured knowing your pet will be more at ease in his or her own environment versus boarding. Each member of our staff truly loves and cares for animals as if they were their own and forms close attachments to them as well.
In addition to the wonderful care your pet will receive, we also take out the trash, bring in the mail, water any plants, and rotate lights to give your home that "lived in" look while on vacation! We also never charge extra for additional pets or for any medication administration, including insulin injections.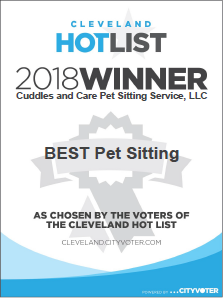 Cuddles & Care Pet Sitting Service, LLC named Best Pet Sitting by Cleveland Hot List voters
Voters named Cuddles & Care Pet Sitting Service, LLC the Best Pet Sitting in the Cleveland area for 2018. To determine the winner, voters had more than 20 nominees to choose from.
Cuddling Pets In...
Bay Village
Elyria
Fairview Park
Lorain
North Olmsted
North Ridgeville
Rocky River
Sheffield Lake
Westlake
"I have been using Cuddles and Care for years and am very happy with their service. I feel 100% at ease with leaving my pets in their care. She leaves clear and consistent confirmations of my requests and her visits. The notes are descriptive. I will continue to recommend Cuddles and Care for my family and friends' pet needs." ~ Sonya