Meet Our Staff
Cuddles & Care hires only the very best to care for your pets. All of our pet sitters are fully trained, bonded, and insured. Every member of the Cuddles & Care staff has pets of his or her own.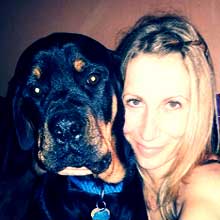 Diana
Diana is the current owner of Cuddles & Care. After working with the company as a pet sitter for 4 years, the opportunity to purchase the company was presented to her when the former owner decided to relocate. She quickly said "Yes!" and began the journey of fulfilling her dream of owning a pet sitting company, while still doing visits for all of her furry friends.
Diana is mom to cats Needy & Kiki, a Miniature Schnauzer named Piper, a Rottweiler named Esteban, and a Shih Tzu named Couper. Diana is pictured at left with Esteban.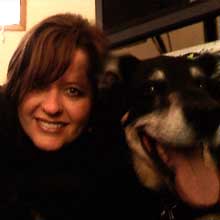 Jaime
Jaime Breit is the founder and previous owner of Cuddles & Care. With her background in business management, and her lifelong love for and experience with so many kinds of animals, she realized that Pet Sitting was her calling and opened Cuddles & Care Pet Sitting Service in February 2000.
Pictured here with Max, Jaime is now mom to two rescue pets, a Border Collie/Shepherd Mix named Benny and a deaf cat named Frances.
Mary Anne
Mary Anne joined our staff in 2007. She provides Dog Walking and Pet Sitting Services primarily on weekends and holidays, as well as occasional weeknight visits when needed. Most of your pets will meet Mary Anne, if they haven't already, as she and Kim take over the majority of our vacation bookings each weekend.
Mary Anne is mom to four dogs and 13 birds. She is pictured here with Sophia Loren.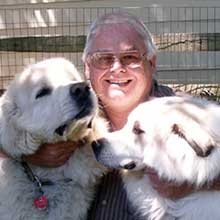 Tom
After being a Cuddles & Care client for 9 years, Tom joined our staff in early 2010. He provides Dog Walking, Puppy Potty Breaks, and Pet Sitting Services on weekdays.
Tom does a lot of volunteer work with his Canine Good Citizenship & Certified Therapy dogs, Hank and Daisy, both Great Pyrenese. He is also Dad to two cats, Larry and Petie. Tom is pictured with Hank and Daisy.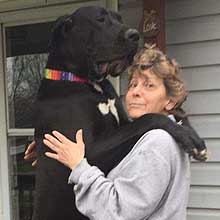 Debbie
Debbie started with Cuddles & Care in late 2012. She has had animals all her life, including; dogs, cats, and horses. She also worked for many years at a veterinarian clinic and knows how to administer insulin and Sub Q fluids. She also does light dog grooming for clients. Debbie takes care of vacation clients, middays and also does overnights. She is mom to three Great Danes - Black Sabbath, Thor and Merlin.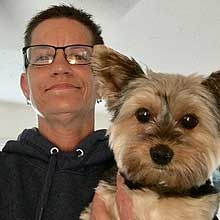 Dee Dee
Dee Dee started with Cuddles and Care in early 2017 and became fast friends with a lot of our furry clients. Her love of all animals is definitely apparent as she is a member of the ASPCA, enjoys volunteering at shelters, grew up with an assortment of pets and is now mom to 7 year old Yorkie, Stella. Dee Dee takes care of vacation clients, middays and also does overnights.
I had peace of mind while we were away, and when we returned all four pets were calm and happy. It's not just care that is given to cats and dogs, but love and compassion. I couldn't speak more highly of Jaime and her staff. ~ Paige & Bob